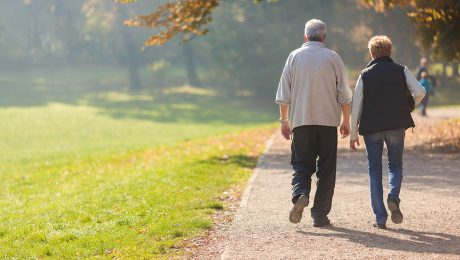 Falls are the leading cause of injury among seniors, costing Albertans $288 million per year. Research shows that every year 1 out of 3 seniors will fall. So, how can we encourage seniors to talk about their health, and their risk of falling? By getting seniors to ask themselves the right questions.
The Finding Balance Falls Risk Self-Assessment Checklist is an evidence-based and validated screening tool created with input from seniors for use in public health outreach and education. It asks a series of weighted questions, and offers steps seniors can take to lower their risk of falling based on their score. If they score four points, or more, the next step is to talk to their healthcare provider to discuss prevention options.
"The checklist offers a quick way for older adults to improve their knowledge about fall risk and their own risk level for falling" says, Dr. Kathy Belton, Associate Director of the Injury Prevention Centre. "The goal is to reduce the risk by asking the right questions, and taking the right actions, so seniors stay independent and prevent falls."
Complete the Falls Risk Assessment to find out if you are at risk of fall.
Thursday, 09 November 2017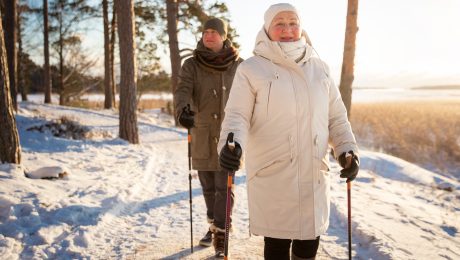 1 in 3 Albertans over 65 will fall at least once a year. We all know that as we age our balance and strength weakens, but there are simple ways we can slow down the aging process. We all have a role to help keep seniors moving and keep them doing all their favourite activities.
"You don't need to make a big commitment, you need to make a consistent commitment," said Debra Bosker, group exercise coordinator, Don Wheaton Family YMCA "that consistency over time is how you're going to achieve the benefits."
Seniors exercises need to be focused on:
Functionality: Exercises that help seniors perform basic everyday tasks like; lifting a bag off the ground, standing up, sitting down and picking a book of the shelf. Exercises that mimic daily tasks are the best at keeping seniors doing the things they love.
Endurance: Plays a pivotal role in keeping seniors' hearts strong. Exercises that consist of more repetitions, or exercising for longer can make it easier to walk up the stairs without getting out of breath, or carry groceries into the house.
Keeps brains active: Seniors need to make complex decisions and negotiate difficult tasks for themselves to stay independent. Daily activity keeps the brain active and slows down the aging process.
Strength: Resistance training helps build strong bones and muscles that help seniors keep their balance and prevent injuries caused by falls.
Exercises do not have to be complex, you'd be surprised with what can be found around the house. Soup cans become free weights, a chair becomes a squat assist and the stairs become a hill climb – there's so much to keep the heart pumping. Plus, a countless variety of online workouts, DVD workouts and Sit and Be Fit shows on television. Although, working out at home is convenient, it's also important for seniors to have opportunities to socialize and build a support system.
"Try out a group fitness class," says, Bosker "It's a great way to be social and make friends for seniors, and helps keep accountability."
Sometimes getting in that physical activity can feel like a chore, but it does not have to be. It's important to start small, build your way up and stay consistent. "Seniors need to remember… consistency …that's where they're going to see the most benefit of staying strong, staying healthy and being able to carry on with their lives." Stated, Bosker.
Finding Balance is a province-wide seniors' falls prevention campaign that runs for the month of November. It was developed by the Injury Prevention Centre in partnership with healthcare providers and community groups.
For more resources on seniors' fitness visit www.findingbalancealberta.ca
Wednesday, 25 October 2017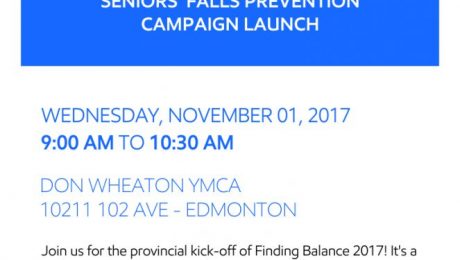 The Finding Balance Provincial Launch will take place at 9am on November 1 at the Don Wheaton Family YMCA! The event will feature guest speakers, snacks and refreshments, seniors' group classes, information booths and door prizes. Excited to see you all there!