Finding Balance Campaign 2020
Lunch & Learn Series
Two free online events were held in support of falls prevention month.  View copies of the presentations.
Practitioners' Day 2020
Thank you to everyone who participated in Practitioners Day. We had over 400 participants attend the virtual half-day event. Information about the speakers and copies of their presentations can be found here.
Resources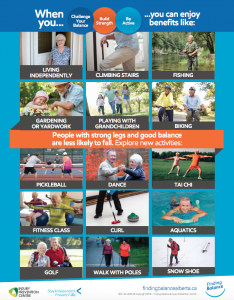 A new version of the Being Active Benefits Poster has been created. Find it in two different sizes in the Resource Catalogue, under the heading 'Movement & Exercise.'
Community Events & Activities
Share your events with us, so we can share them, too! Email nans@ualberta.ca with your local event details.