Resources to Order
In addition to the downloadable resources below, we also have additional resources available to order!
Resource Catalogue
The Finding Balance resources have been designed with simplicity and readability in mind. These resources focus on staying independent and preventing falls.
---
To ensure consistency and quality, we ask that all resources be used as-is. Please do not alter or adapt the resources. If you require a unique resource, please contact Finding Balance.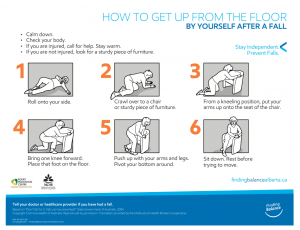 How to Get Up From a Fall Instruction Sheet
This resource has been translated into 15 additional languages, which can be found in the Translated Resources section.