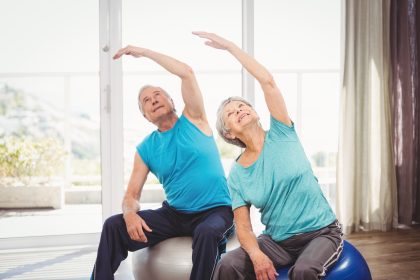 Falls are the leading cause of injury among older adults. After a fall, many people are unable to live the way they want; they may lose their independence or live in fear of falling again.

A Big Problem that is Getting Bigger
Every day, 92 Alberta seniors are treated in emergency departments for injuries due to a fall and 25 need to be admitted to hospital for treatment. With the number of seniors expected to double by 2040, this problem will get bigger, unless we teach older adults how falls can be prevented.

Strength and Balance can Prevent Falls
Falling is not a natural part of aging; falls can be prevented. People with strong legs and good balance are less likely to fall. Luckily, no matter what a person's abilities are today, they can improve their strength and balance. One is never too old, or too young, to start.

Using Finding Balance to Prevent Falls
The Finding Balance falls prevention program has materials that are designed to encourage community-dwelling older adults to manage their risk of falling by teaching them to maintain or improve their balance and strength.  Resources available in the Resource Catalogue can help: 
Start a conversation about the risk of falling 

Use the Are You at Risk of Falling? quiz to identify risks

Familiarize older adults with the impact falls can have on independence and health

Discuss the Can a fall change your lifestyle? brochure

Share this message about how to prevent a fall:

Challenge Your Balance, Build Strength, Be Active
Finding Balance messages are based on the latest evidence
Access Finding Balance materials including:

Specific exercises and activities proven to improve balance
Information on how to strengthen muscles
Tools and challenges to motivate seniors to stay physically active

Remind older adults that falls are not an inevitable part of aging

Balance can be improved with practice
Strength can be improved at any age
Being active helps improve balance and strength

Find information about reducing risks specific to the individual

Share Finding Balance information sheets with seniors and their families
Titles include Have Your Vision Checked, Review Your Medications, and Walking Safely in Winter and others.
You can play a role in preventing falls with the help of Finding Balance. Finding Balance is an initiative of the Injury Prevention Centre.