If I fall, what do I do?
If you have fallen, let your doctor or healthcare provider know as soon as possible. While you may feel fine, there may be an underlying injury you haven't noticed. There also may be additional steps that you can take to prevent falling again.
If you do fall, and have not been injured, try to get up on your own by following the "How to get up from the floor" instruction guide below. Do not let anyone pick you up because they may injure you.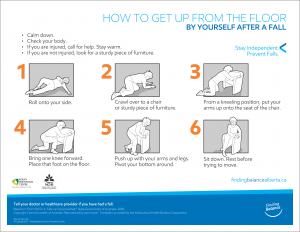 How to get up
Our visual, step-by-step instructions describe how to get up from the floor by yourself after a fall. It is available in 14 languages.
---